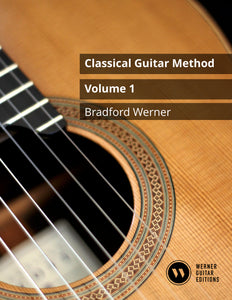 Classical Guitar Method Volume 1 (PDF)
Regular price
$0.00
$0.00
Classical Guitar Method Volume One by Bradford Werner, 2019/2020 Edition. Free PDF method book for beginner classical guitar or fingerstyle guitar. Free PDF Download (102 pages). Free video lessons.
You can find hardcopies via: Amazon.com or Amazon.ca, Amazon.co.uk, or your country's Amazon. 
This book teaches classical and fingerstyle guitar skills with a focus on the rich pedagogical tradition of classical guitar. Most learning objectives are covered through pieces and duets allowing students to perform full pieces from the first lesson. A qualified teacher and the lesson videos should provide students with a healthy start. You can also check out my page on How to Use my Educational Series.
---
Free Video Lessons for this Method
Video lessons and helpful articles are an essential part of using my method book. Follow the lessons in the order below. Also see the list of additional tips and lessons at the bottom of the list. You can start the technique routines anytime.
The above videos are for the 2019/2020 edition. 

If you enjoyed the book you can support the site here.
Student FAQ:
What's new in the 2020 edition? It's the same pieces and page numbers as the 2019 edition. I've added some extra tips and explanations to help students understand the directions more clearly and updated a bunch of the video lessons. But it's essentially the same book but just a bit more clear for students.
Should I memorize the pieces and should I keep them in my repertoire? Although I'm not strict about memorization with my students, I do believe that we play better when the piece is memorized. Also, our brains seem to get used to it as a habit and memorizes more efficiently if we do it regularly. So, I highly recommend you memorize your pieces but don't be too hard on yourself, just do a little bit of memory work everyday and see how it goes.
When should I move onto the next piece? Aim for a confident playing of the piece. As a basic check you might put a metronome on and be able to play through it as that is a common issue. Aim for an even rhythm, nice tone, arched phrases, and a prominent melody. I encourage students to stick with pieces for awhile to see how they 'settle' into the piece in terms of relaxation. It's important to dive deeper into musicality after you have accomplished the basic physical movements. A large part of what teachers do is to just raise the musical bar and get students to strive for higher levels of musicality so you'll want to push yourself in that regard to ensure you are not just settling for a past standard (up your personal level every piece). In the end it's up to you but try to feel confident and happy with your performance.
Also visit my blog This is Classical Guitar for free lessons, pro videos, and more.
Cover image is just for promotion, the PDF is a text cover. 
---
Share this Product
---
More from this collection